workshops & private lessons
intro bookbinding workshops
In our full-day intro bookbinding workshops at our studio in Boiling Springs, PA, you will learn hands-on about bookbinding hand tools and materials and practice the basics of folding and stitching, covering boards with cloth, and preparing materials as you complete your own hardcover book. Each season we offer a workshop featuring a different binding project, so you can return for multiple classes and learn a new binding while sharpening your skills. In each workshop, we will work through a hardcover binding from start to finish, using your choice of plain or Burdock & Bramble printed bookcloth for the covers.
Saturday, July 7, 2018 10:00am–5:00pm · Case Binding
Saturday, September 22, 2018 10:00am–5:00pm · Stab Binding
$150 (includes all materials, taxes and fees)
class size: max 7, min 4
no prior bookbinding experience necessary
please read our workshop policies below before registering
1 seat left...
custom group workshops
Burdock & Bramble can design a bookbinding workshop just for you. We'll bring a custom-tailored class to your location in Central PA/Harrisburg, Baltimore, Philadelphia, Washington DC, and surrounding areas, or you can bring your group for a retreat at our workshop in Boiling Springs, PA. We can accomodate up to 10 participants per session.
3 hour minimum/session, flexible dates and times
$100 per contact hour, plus $10/person materials
travel expenses additional outside the Harrisburg area
call 410-246-4260 to schedule
custom private lessons
We offer personalized, hands-on bookbinding & book arts private lessons. Please see details on pricing and options below.
1.5 hour, 3.5 hour, or full-day classes, flexible dates and times
Boiling Springs, PA
see pricing below
call 410-246-4260 to schedule
book arts meeting
Each month in 2018, our newly formed group of book arts enthusiasts will meet in Dillsburg, PA for hands-on bookbinding and discussion. For more information or if you are interested in joining, please email Heather O'Hara at heather@burdockandbramble.com.
recent workshops
Intro Workshops
Bookbinding and Book Arts classes for all levels of experience. If you want to practice your stitching and board-covering skills, or if you're just beginning with binding, these classes are a great place to start.
case binding sampler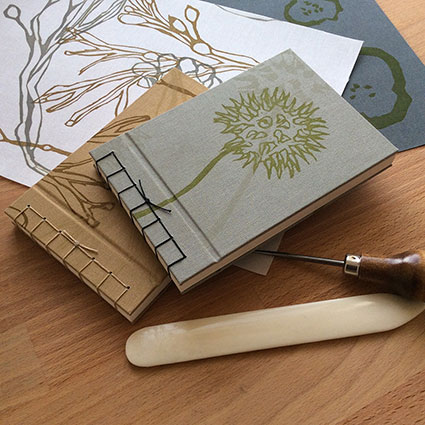 stab binding sampler
coptic stitch sampler
intro to binding
stab binding
coptic stitch
guest books
print + bind
wrapped books
Next Level Workshops
If you've taken an intro workshop, next level classes let you apply your board-covering and stitching skills to more advanced projects.
clamshell box sampler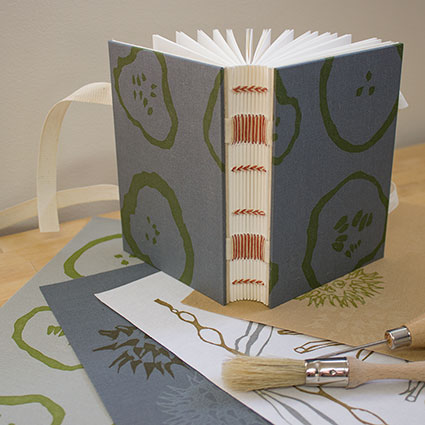 ribbon + coptic sampler
longstitch rebind
dos-i-dos sampler
historic longstitch sampler
Bookbinding Elements
If you've taken an intro or sampler workshop and want to learn more about putting together your own book projects, the bookbinding elements series covers a variety of topics to get you rolling.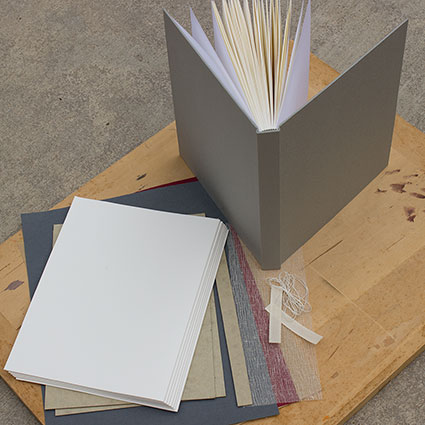 materials
layout
covers
tools
studio
workshop policies & information
your bookbinding workshop questions answered:
Who teaches Burdock & Bramble bookbinding workshops?
Hi, I'm Heather O'Hara, and I'll be your teacher for all the Burdock & Bramble workshops. I love binding books, and even more, I love sharing book arts knowledge with you. I take a simple approach to binding: that everyone can learn to do it and that you can get great results with practice and a basic set of reasonably-priced hand tools. I've been binding for over ten years with students of all ages and from all places, and I'm looking forward to binding with you! Please read on before registering to learn the basics about the classes.
Are the workshops hands-on?
Yes. Every class is a hands-on workshop where you will create your own book to take home.
Do I need to have any experience with bookbinding to take these workshops?
I offer three levels of classes: Intro Workshops, Next Level, and Bookbinding Elements. I design the Intro Workshops to introduce basic bookbinding skills, and they require no prior bookbinding experience. That said, binding requires a fair bit of cutting with sharp tools as well as accurate measuring, so if you have any concerns, please send me a note. Some projects require more slicing and ruling than others, and we can figure out together which workshop will leave you the most satisfied and with all the digits that you brought with you. After you've taken an Intro Workshop, or if you have previous bookbinding experience, Next Level classes offer you the chance to practice your skills as you complete more complicated bookbinding projects. After you have developed your basic skill set, the Bookbinding Elements series lets you select topics of interest to build out your bookbinding skills as you work to design and complete your own projects.
What is a sampler class?
Classes with sampler in the title are workshops that let you sample a new binding style, while also sampling Burdock & Bramble letterpress printed bookcloth. In a sampler workshop, you choose from a selection of printed and plain fabric, and then we work together to assemble a book project. These classes are great if you are just starting out with binding or want to practice your stitching and board-covering skills. I have all the materials cut to size for you, so that we can focus on stitching and assembly, and at the end of each class you have a beautiful book to take home.
What happens if I register and then can't attend the class?
Tickets for workshops organized by me and purchased through Ticketleap are non-refundable, but if you have to cancel, please give me as much notice as possible and I will try to fill your seat. Classes with partner organizations may have different cancellation policies and allow refunds. Please check out their policies when registering.
What if a class is full, but I really want to attend?
If your class of choice is full, please email me at heather@burdockandbramble.com to let me know that you're interested, and I will add your name to the waitlist.
What happens if you cancel a class?
In the event of a workshop not meeting the minimum class size, you will receive a full refund of your class fee. Same goes if I have to cancel a class due to weather or calamity.
What age are the workshops designed for?
I designed all the classes for adults, unless otherwise listed in the class description, but younger binders are welcome with parental consultation. Please send me a note if your young adult is interested in binding, and we can discuss what class will be a good fit.
Can you accommodate special needs?
Yes. Please contact me before registering so that we can make arrangements and make sure that your needs are met.
Where are your workshops held?
In summer 2017, Burdock & Bramble moved shop from Baltimore, and our bookbinding workshops will meet at my studio in my hometown Boiling Springs, PA. Boiling Springs is a village in beautiful, rural central Pennsylvania—40 minutes from Harrisburg, 1 hour 45 minutes from Baltimore, and 2 hours from DC and Philadelphia. I also teach workshops seasonally at partner organizations in PA and MD, and sometimes further afield. Each class description will name the location for that particular class.
What can I expect after I register?
Shortly after you register, you'll receive an email from me confirming your seat in the workshop, and then a week before the class, I'll send you another email filled with information about the bookbinding fun we'll have and details about exactly when and where to go for the class.
your private bookbinding lesson questions answered:
Who teaches the private lessons?
Hi, I'm Heather O'Hara, and I've been printing and binding books, and teaching book arts and printmaking for over ten years. I love working with both new and experienced bookbinders, and I can help you learn to bind if you are just starting out, or I can help you trouble-shoot your own projects if you already have bookbinding experience.
When can we bind?
I have times available weekdays from 9am–2:30pm, as well as weekend openings in both mornings and afternoons.
Who is the perfect binder?
You! And your friends, if you want to share. Private classes can be for just yourself or shared by up to 4 people if you would like to organize a group. Absolutely no bookbinding experience necessary. I can also organize specially-designed custom classes for larger groups, corporate team-building retreats, and clubs interested in a unique arts experience.
Where will we meet?
Lessons meet at my studio in Boiling Springs, PA. We can also make arrangements for me to travel to your location.
What will we do?
I tailor the sessions and projects to your interests. If there is a particular binding that you want to learn or if you have a bookbinding project in mind, I can help. If you've never bound before and you want to learn all the basics, I recommend a 12-session starter series. Over the 12 1.5-hour sessions you'll make 4 hardcover bindings of your choice: case binding, Coptic stitch, stab binding, longstitch, dos-i-dos or clamshell box, as well as softcover models of accordion and other folded, no-glue bindings. Throughout the sessions, we'll discuss material preparation and binding design, culminating at the end of the series in the construction of a blank book entirely of your design. For each book project, you choose your own cover from a selection of solid-color and Burdock & Bramble block-printed cloths.
What do personalized bookbinding lessons cost?
Lessons cost $60/hour and include all basic materials. I will provide all the tools you will need to use during the lessons.
What tools will I need for working at home outside of the lesson?
You probably already have many of the things you need around your home, and for under $80 you can get a full set of basic bookbinding tools. I can provide you with a list of exactly what to purchase. I also offer prepared materials kits for different binding styles if you want to bind additional books similar to the ones we make together in the lessons.
I'm always here to answer questions at heather@burdockandbramble.com or 410.246.4260.
visit Burdock & Bramble on Instagram and Facebook
for photos from recent workshops