our story
Burdock & Bramble began in Baltimore, Maryland in 2014 with a series of 7 grackle-inspired block print greeting card designs by printmaker and bookbinder Heather O'Hara. Since 2014, Burdock & Bramble has grown, now with over 150 block print designs featuring grackles, toads, and other beautiful but slightly spiky everyday natural wonders, and with spouse Jay Jarvis joining Heather full-time at the press in summer 2017.
Burdock & Bramble's specialty from the start has been taking observations of the pointed personalities in nature and turning them into carefully crafted, original block print designs with a touch of humor. Every greeting card, limited edition print, and handbound book features a hand-carved, hand-pulled block print, made from start to finish in our printshop and bindery.
We also do custom book and print production and offer bookbinding classes. While these are generally less prickly affairs, we approach every project and class with pointed attention to detail and thoughtful design.
In summer 2017, we moved our workshop to Heather's hometown, Boiling Springs, PA to have more space for our printshop, bindery, and classroom, but we remain connected to Baltimore, where our block print designs based on the prickly yet beautiful around us began.
our work
At Burdock & Bramble, we make hand-bound books and hand-carved, original block prints that are smart, sharp & freshly letterpress printed.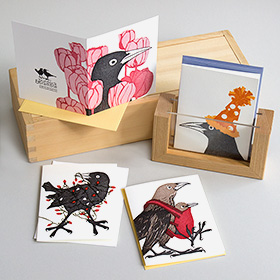 block print greetings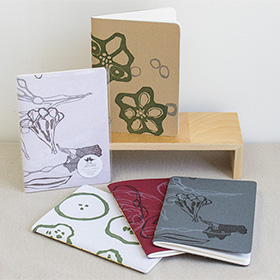 hand-bound books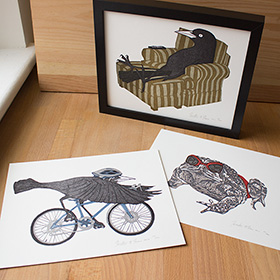 block print editions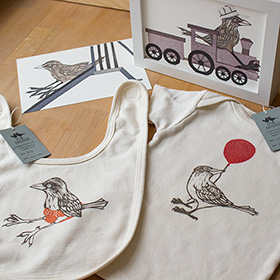 little birds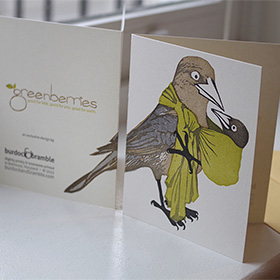 custom design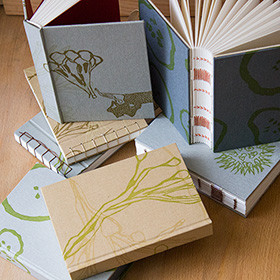 bookbinding classes
our process
original designs
hand carved
letterpress printed
individually finished
bound by hand
made with love
Every Burdock & Bramble card, print, and book cover begins with an original design and drawing.
We transfer the original designs to blocks—one for each color layer in the finished print. Then we carve the blocks by hand to create the surface for printing.
We print using a hand-powered Challenge letterpress. The press makes it possible to easily align the multiple layers of color in each image. We print on cotton rag paper using rubber-based ink—a vegetable oil based ink that is a standard for letterpress printing.
After printing, we score, fold, and package every card by hand. Our limited edition prints are signed and numbered.
We print special block print designs onto bookcloth, and then use this cloth to cover our hand-bound journals and sketchbooks. We prepare, stitch, and assemble all parts of each book by hand using all archival materials to ensure a hand-made book of exceptional quality and durability.
Every card, print, and book from our printshop & bindery is handmade with exceptional care and attention to detail.
q & a
Heather answers your Burdock & Bramble questions:
Do you really make everything by hand?
Yes, indeed. From carving printing blocks from original designs, to pulling each layer of each block print through a hand-powered letterpress, to hand-stitching each book, Burdock & Bramble is about as by-hand as it comes.
Why grackles?
If you're going to put a bird on it, why not put the most interesting bird in town? Grackles are seasonal and permanent residents across the country, and they practice their particular brand of intrigue everywhere they land. If you're interested in reading more, I wrote in an early issue of the ramble about how I came to know grackles while living in New Mexico and then returned to Baltimore to find them in my backyard.
Why toads?
Toads are simply amazing, with a constant amphibian expression that conveys the full weight of the human condition. More details on my interest in the toad in a recent issue of the ramble.
Sometimes you refer to yourself in the plural and sometimes in the singular. Not to be overly grammatical, but how many people are you?
We are a family affair, plus help in the studio from great assistants, but mostly we are Heather O'Hara, and if you email or call, I'm the we you'll be talking to.
I'm interested in seeing your printshop and/or bindery. Can I stop by?
We recently moved our workshop to Boiling Springs, PA in summer 2017. Boiling Springs is located in the beautiful Cumberland Valley of Central Pennsylvania, 30 minutes from Harrisburg, and a 1.5ish hour drive from Baltimore, Philadelphia, and Washington DC. After we get everything set up, we will begin offering workshops in the new space, and we will be able to welcome visitors to see the printshop and studio.
contact us
If you have any questions about Burdock & Bramble or need help with your order, we're here to personally help you. Please email Heather O'Hara at heather@burdockandbramble.com or call 410.246.4260.
keep in touch
Sign up below to receive The Ramble, a seasonal email newsletter filled with info on the latest Burdock & Bramble items, as well as workshop updates, tales of the hand-making of books & prints, and notes on topics of general interest. We're on Facebook and Instagram too, with semi-regular updates and announcements.
the ramble
Add you name and email address using the form below and a seasonal ramble will soon appear in your inbox with all the bindery, printshop & workshop news.