At Burdock & Bramble, we make hand-bound books and hand-carved,
original block prints that are smart, sharp & freshly letterpress printed.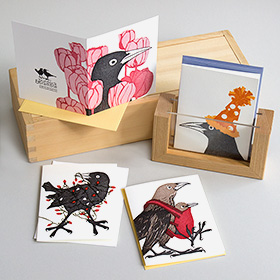 block print greetings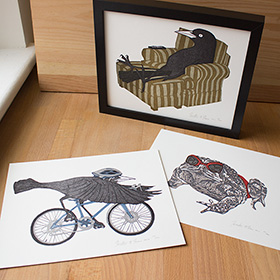 block print editions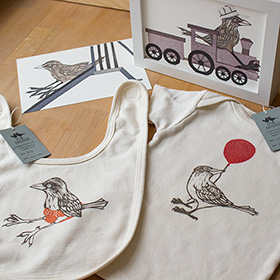 little birds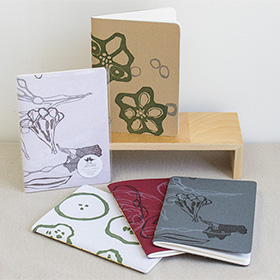 hand-bound books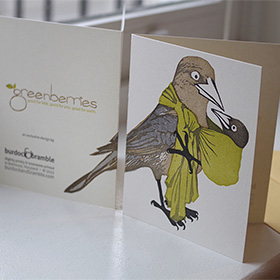 custom design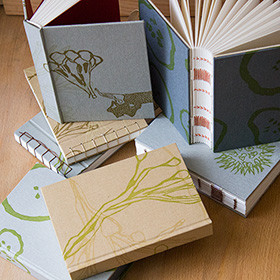 bookbinding classes
our process
Every Burdock & Bramble card, print, and book cover begins with an original design and drawing.
We transfer the original designs to blocks—one for each color layer in the finished print. Then we carve the blocks by hand to create the surface for printing.
We print using a hand-powered Challenge letterpress. The press makes it possible to easily align the multiple layers of color in each image. We print on cotton rag paper using rubber-based ink—a vegetable oil based ink that is a standard for letterpress printing.
After printing, we score, fold, and package every card by hand. Our limited edition prints are signed and numbered.
We print special block print designs onto bookcloth, and then use this cloth to cover our hand-bound journals and sketchbooks. We prepare, stitch, and assemble all parts of each book by hand using all archival materials to ensure a hand-made book of exceptional quality and durability.
Every card, print, and book from our printshop & bindery is handmade with exceptional care and attention to detail.
our story
Burdock & Bramble began in Baltimore, Maryland in 2014 with a series of 7 grackle-inspired block print greeting card designs by printmaker and bookbinder Heather O'Hara. Since 2014, Burdock & Bramble has grown, now with over 200 block print designs featuring grackles, toads, and other beautiful but slightly spiky everyday natural wonders, and with spouse Jay Jarvis joining Heather full-time at the press in summer 2017.
Burdock & Bramble's specialty from the start has been taking observations of the pointed personalities in nature and turning them into carefully crafted, original block print designs with a touch of humor. Every greeting card, limited edition print, and handbound book features a hand-carved, hand-pulled block print, made from start to finish in our printshop and bindery.
We also do custom book and print production and offer bookbinding classes. While these are generally less prickly affairs, we approach every project and class with pointed attention to detail and thoughtful design.
In summer 2017, we moved our workshop to Heather's hometown, Boiling Springs, Pennsylvania, but we remain connected to Baltimore, where our block print designs based on the prickly yet beautiful around us began.
contact us
If you have any questions about Burdock & Bramble, please contact
Heather O'Hara at heather@burdockandbramble.com or at 410.246.4260.